About Warbout Distributie
Warbout Distributie is an independent importer and distributor for ICT and CE products, among which brands like be quiet!, Zalman, GOODRAM, and eScan AV.
Warbout mainly targets the Netherlands and Belgium and has its own marketing and sales team to draw the markets attention towards our brands.
With over 25 years of experience in computers and hardware, Warbout Distributie developed a keen eye for the most suitable hardware for medium to large business projects. Originally specializing in PC Components like PSU, Cases and cooling, business is expanding and includes now a variety of product groups as wide as mini PCs to desk lamps.
Warbout Distribution has extensive experience in e-commerce, making them the ideal partner for (r)e-tailers and resellers of ICT/CE products. All business processes have been made as simple as possible. No complicated procedures, forms and other matters, but an approach that is as accessible as possible makes working with Warbout Distribution very rewarding. Most collaborations are therefore long-term.
The choice for collaborating with brands and products is well-considered and distinctive. When making that choice, several things are considered: is the product of good quality, is the price in proportion to the quality and is the product up-to-date and salable for our (r)e-tailers and resellers.
Warbout Distribution has one of the lowest distribution costs in the Netherlands, bringing beneficial to both (r)e-tailers and resellers as well as the represented brands. The market, demand for products and technology are changing rapidly. Warbout Distribution has an enthusiastic team of people that always tries to respond to these changes.
Location
Our warehouse and office at Spanjelaan 7 is located on a modern business park on the outskirts of the Dutch city of Assen.
Being very near to the A28 exit "Assen-Noord" makes accessibility by car optimal.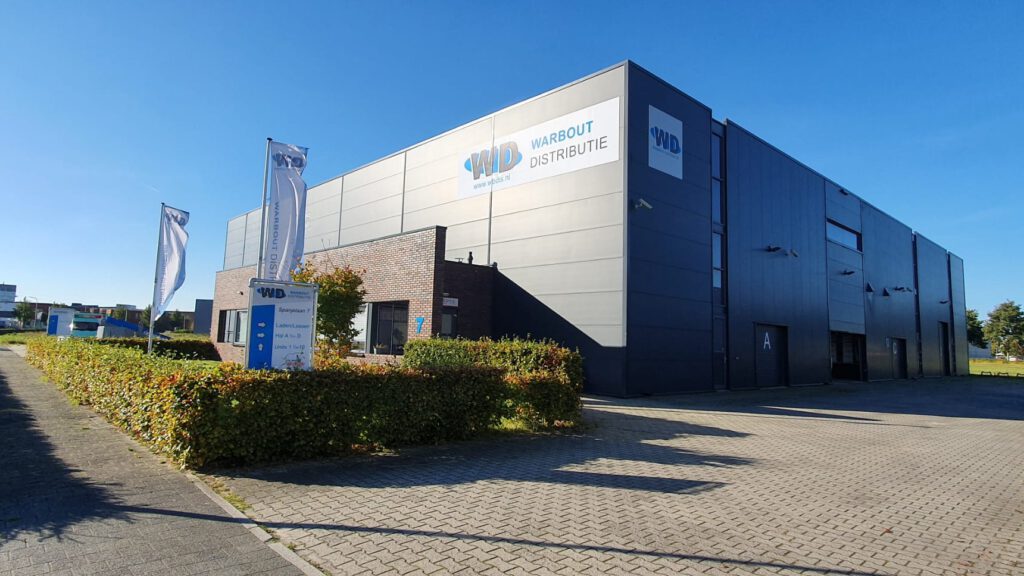 Important Warbout Distributie brands highlighted
---

be quiet! is a premium brand of power supplies, PC cases, water and air cooling and fans for desktop PCs. The products of be quiet! offer legendary quiet operation and first-class performance thanks to our passion for quality and precision. A special focus is on product quality and details. Which is why our very own experts lead product conception, design and quality control from our headquarters in Germany.
Exceptionally quiet operation
be quiet! lives up to its name: 20 years of experience in product development make be quiet! products amongst the most silent ones on the market.
Undoubtedly the fans are an integral factor in minimizing the noise levels of our products. That's why the be quiet! assortment features custom-developed fans like the Silent Wings, that are equipped with a variety of noise-reducing features such as special bearings, smooth-operation motors, optimized airflow and anti-vibration decoupling. Thanks to these fans, be quiet! products attain a perfect balance of ideal cooling performance and virtually inaudible operation.
Customers of be quiet! products are guaranteed to receive proven premium quality and the typically silent be quiet! operation.
Developed in Germany
Since its foundation in 2001, all be quiet! products are conceived and designed in Germany. The development takes place in close cooperation with our locations in Asia. The final quality control also takes place at our headquarters near Hamburg. This is how be quiet! ensures that every product meets our high standards.
This successful concept is not only regularly confirmed by awards from the European Hardware Association as well as renowned trade magazines and online portals, but also by the growing community and customers all over the world.
be quiet! is a trademark of Listan GmbH | www.listan.com
---

Zalman  is a South Korean company that develops and provides aftermarket desktop computer products with primary focus on cooling enhancement.
Zalman has done considerable product development since its founding in January 1999, and now holds several patents focusing on both cooling and fan noise-reduction. Personal computer systems can generate significant heat and noise, the management of which is important for those modifying or assembling computer systems. Zalman's product range includes specialized heat sink and fan solutions for CPUs, as well as quiet power supplies, computer water cooling systems, motherboard chipset coolers (cooling), graphics card heat sink and fan combos, laptop coolers, cases, and hard disk cases that lower temperature and reduce noise.
---

GOODRAM Since 2003, GOODRAM has been producing flash storage and DRAM memory for consumers and enthusiasts around the world, as well as for high-end industrial and corporate applications. GOODRAM is a no-nonsense brand that distinguishes itself through a passionate R&D department. As a result, GOODRAM products are extremely well put together, resulting in high performance and low failure rates.
GOODRAM has a wide, well-arranged range, with a clear distinction between the products. GOODRAM's SSDs score excellently in terms of speed, reliability and lifespan by, among other things, using MLC and the NVME protocol on selected models. In addition to a very wide range of RAM memory from DDR to the latest DDR4 modules, the USB sticks and Secure Digital cards are also included.
GOODRAM carries out advanced quality control procedures on all products, which ensures that GOODRAM products are innovative and reliable. GOODRAM products are available all over the world and receive positive reviews and recommendations from both consumers and industry experts.
Key facts
GOODRAM has 30 years of experience in the memory market as a distributor, manufacturer and sales partner, the headquarters and factory are located in Poland
GOODRAM is the main partner of KIOXIA (formerly Toshiba Memory Europe)
GOODRAM tests every DRAM memory module they manufacture
GOODRAM is the leading brand of DRAM memory modules and SSDs in Poland
The team consists of 200 experts
GOODRAM's products consist of USB sticks, memory cards, memory modules, solid-state drives and accessories
The factory is equipped with one of the most technologically advanced SMT lines, 400 test platforms and a climate chamber for industrial solution
The main goal is to provide GOODRAM customers with safe products of the highest quality. Ensuring high customer satisfaction in terms of lead times, deliveries and prices translates into continuous business growth. In addition, in 2017, GOODRAM fulfilled the expectations of professionals and gamers by creating the IRDM brand.

IRDM GOODRAM a new brand of storage and memory from GOODRAM for pros and gamers, which grew out of their acclaimed products used all over the world. SSD Iridium Pro, the most popular SSD of the GOODRAM brand in 2017, helped to maintain a positive image of the Polish manufacturer, a manufacturer capable of providing high quality products at a very competitive price. After several awards, industry accolades and wins in sales rankings, this helped Wilk Elektronik make the decision and add the IRDM brand to its lineup.
IRDM products are aimed at anyone who needs the highest performing and most reliable products to fulfill their daily work or hobbies, without compromising on other features such as design or affordability. Potential customers include photographers, engineers, developers, filmmakers or extreme sports enthusiasts, gamers, esports players, or case modders. Despite achieving their goals in different ways, they all need good tools to carry it out.
---

eScan AV is easy to use and protects your computer from all threats from the Internet with the most minimal system load.
eScan has been voted one of the best security software in the world, and is also one of the cheapest.
Optimal Security
eScan is the world's first real-time antivirus software, Content-Security and TCP-IP traffic scanner that uses the revolutionary "MicroWorld WinSockLayer" technology. It checks the content of email, attached files and Web pages on a real-time basis. The checks target viruses, banned words or phrases, and hidden objects such as Java applets, etc. before they reach the application. The software provides security at different levels within any organization; from the Server to an employee's desktop, or from the router to your and your family's desktop and laptops. eScan is also synchronized with the internet to guarantee real-time security.