be quiet! Silent Base 600 Orange, 495 x 230 x 493, IO-panel 2x USB 3.0, 2x USB 2.0, HD Audio, 3x 5,25, 3x 3,5, 3x 2,5, inc 1x 140 mm en 1x 120 mm fan, dual air channel cooling, 3-in-1 airintake sidepanel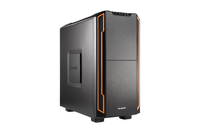 Product Code:

BG005

Merk:

be quiet!

Artikelnummer:

00013513

EAN Code:

4260052184424
Login om uw prijsinformatie te zien!
Unique Performance and Usability
be quiet! Silent Base 600 offers the perfect symbiosis of noise prevention and cooling performance, a good usability and an
extensive capacity for high-end hardware.

Highlights »

- Outstanding performance thanks to an innovative construction that assures excellent cooling efficiency and a perfect air-circulation at well-known whisper-quiet operation
- Excellent usability with simplest mounting and tool-free fitting of drives, an intelligent and adaptable cable solution, and air intake filters that are easily accessed for cleaning
- Ample space and cutouts are provided for high-end components of today and tomorrow, including space for water cooling radiators
- Two pre-installed Pure Wings 2 fans feature nine airflow-optimized fan blades and are decoupled from the case to circulate air with a minimum of vibration and the quietest possible operation; 3-step fan controller included
- Side panel with adjustable vent that can be closed for silent operation, partially open for increased air intake or open with an
additional fan for higher cooling performance
- Professional cable management is supported with generous space for organizing cables, silicone rubber grommets, and carefully placed pass-throughs
- Product conception, design and quality control in Germany
- 3-years manufacturer's warranty

Silent Base 600 »

The design team's mission was based on the principle "form follows function", and so every last detail in the Silent Base 600's design has a functional purpose. It is truly a superior case ideal for high-end gaming gear and quiet systems.
Aansluitingen

Audio-uitgang
Ja
Audio-ingangen
Ja
Aantal poorten USB 3.0 (3.1 Gen 1) Type A
2
USB 2.0 poort(en)
2

Design

Certificering
CE, RoHS
Maximum PSU lengte
290 mm
Maximum grafische kaart lengte
400 mm
Maximum CPU cooler hoogte
170 mm
Aantal uitbreidingssleuven
7
Dikte van materiaal
0.7 mm
Aantal externe 5,25 " bays
3
Zijraam
Nee
Aantal 2.5" bays
3
Aantal interne 3.5" baaien
3
Kleur van het product
Orange,Black
Supported motherboard form factors
ATX,Micro-ATX,Mini-ITX
Aantal 3.5" bays
3
Aantal 5.25" bays
3
Materiaal
ABS synthetics,Nylon,Steel
Soort
PC
Model
Desktop
Form factor
Desktop
Vormfactor
Desktop

Gewicht en omvang

Diepte
495 mm
Breedte
230 mm
Hoogte
493 mm
Gewicht
7840 g

Koeling

Ondersteunde afmetingen radiator bovenkant
280,240 mm
Ondersteunde afmetingen radiator achterkant
120 mm
Ondersteunde afmetingen radiator voorkant
120,140 mm
Ondersterste ventilators ondersteunende diameters
120,140 mm
Maximaal aantal ventilators onderkant
1
Bovenste ventilators ondersteunende diameters
120,140 mm
Maximaal aantal ventilators bovenkant
2
Achterkant ventilators ondersteunende diameters
120 mm
Maximaal aantal ventilators achterkant
1
Geïnstalleerde ventilators achterkant
1x 120 mm
Zijkant ventilators ondersteunende diameters
120 mm
Maximaal aantal ventilators zijkant
1
Voorste ventilators ondersteunende diameters
140 mm
Maximale aantal ventilators voorkant
2
Aantal geïntstalleerde ventilators voorkant
1x 140 mm
Ondersteunde ventilatorafmeting bovenste radiator
280,240 mm
Ondersteunde afmetingen achterste radiatorventilat
120 mm
120 mm
Geïnstalleerde ventilators achterkant
1x 120 mm
Aantal geïntstalleerde ventilators voorkant
1x 140 mm

Opslagmedia

Supported hard disk drive sizes
2.5,3.5 "

Power voorraad

Vermogenstoevoer locatie
Bottom
Vermogenstoevoer inclusief
Nee

Verpakking

Breedte van de doos
305 mm
Diepte van de doos
550 mm
Hoogte van de doos
572 mm
Gewicht pakket
9530 g
Gewicht verpakking
9530 g
Hoogte verpakking
572 mm
Diepte verpakking
550 mm
Breedte verpakking
305 mm